A centralized platform for copywriting and translations is no longer a nice to have for businesses, it is now an essential tool for them to succeed in their globalization strategy. A significant return on investment is only possible if you have an efficient tool to streamline your business efforts.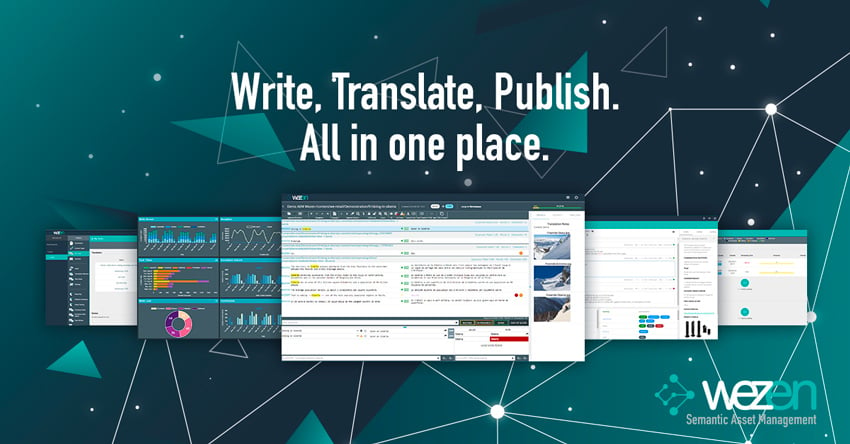 Wezen is a world-leading language SaaS platform, allowing companies to enter global markets quickly while centralizing its contents in one place, thus, maintaining quality multilingual products, while saving times and money thanks to semantic technologies. At Wezen, all your textual contents from CMS and PIM are leveraged to help you edit, re-use, deploy, and monitor your global content in a snap.
To assist each phase of your content development, we developed 3 solutions, each one dedicated to a certain phase of the semantic asset's life cycle. On Wezen, you write product descriptions, send it for translations and create landing pages using content hosted on Wezen. All in one platform to centralize all your content-related operations, whatever the content type and language!
On Wezen, you write contents, translate and deploy them. All in one platform.

These are Wezen products:
Wezen Write was meant to provide editors with the right set of tools to industrialize and enhance copywriting. It offers an environment with innovations like copy and SEO term suggestions to drive high-quality brand image. The use of copy templates helps with consistency, and adaptation to multi-channel publishing.
This Translation Management System module aims to increase the productivity and linguistic quality of localization projects with an environment for Translation Agencies and International Marketing Teams. Wezen Translate automates the creation and processing of translation tasks and aims for high linguistic quality using Translation Memories, SEO Term Bases, Translation Context, and Quality Assurance.
After semantic contents are contributed, marketing teams can design and deploy landing pages with Wezen Publish, without the aid of developers. Semantic contents hosted on Wezen can be integrated and updated within the new page's layout. A set of
API
and
connectors
(Salesforce Commerce Cloud, Adobe Experience Manager, Drupal, etc) allow system integration with enterprise content management systems.
Without Wezen, projects become hard to scale, adding more documents, more languages and more translators. Keeping an eye on the linguistic content tasks and making sure everything runs smoothly to meet the deadline is not an easy task. But there is a tool that can help you with that: Wezen — a Semantic Asset Management System (SAM).
Discover how Wezen can help you meet your goals and schedule a demo with us!